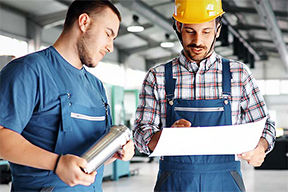 AS9100/9120 Internal Auditor Training
Product: LPAS91009120IA
Description: AS9100/9120 Quality Management System training includes the AS9100/9120 tour and prepares the individual learner for how to conduct Internal Audits including mock audits. A certificate is issued upon completion of the program. 
Length: 3 hours of online training
Contents:  6 Courses
Cost: $750 per seat or $1,500 up to 5 seats
In the AS9100/9120 Internal Auditor Training You will learn:
✔ Getting Started on your Certification
✔ Internal Auditing
✔ Internal Auditing – Mock Audits
✔ Internal Auditing – Where is it Found Exercise
✔ Preparing for your Registrar's Audit
✔ AS9100/9120 Tour
If you would like any additional information about our ISO certification consulting programs, or would like a quote for any of these options, please give us a call or send a quick email. We're also glad to answer any ISO questions you may have.
CONTACT INFORMATION:
Office hours: 8:00 AM – 5:00 PM Eastern Time
Phone: 866-354-0300
Email: info@thecoresolution.com
We support the following Standards and more...