Working toward the implementation of ISO 27001 allows companies to tackle the risks associated with the information that is crucial to the function of their business. Upon evaluation, they realize the avenues for potential loss, corruption, or unauthorized access to that information go far beyond technical systems and strong passwords.
To stay ahead of the threat of cyber risks, companies must first understand some of the tops risks they face today.
Phishing schemes, ransomware, and cryptojacking
The number of tactics known and used by malicious hackers at home in their dark basements is countless. These are the kinds of things people immediately think of when the topic of information and cybersecurity is brought up. Phishing schemes target unwitting users and convince them of false identity before asking for personal information, credit card numbers, and passwords. They then use the information gained to access important accounts and imitate (steal) the person's identity. Ransomware and cryptojacking take it one step further, encrypting information and demanding hefty ransom or cryptocurrencies from companies for renewed access to their own information.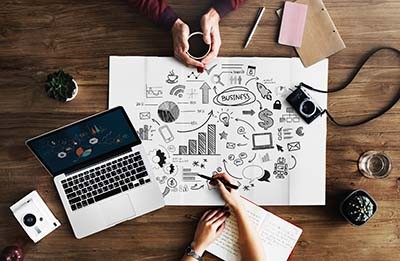 In today's world, most people are driven by phones and other connected devices that are constantly listening (sometimes literally) to what is said, done, and researched. The more connected people are to the internet, the more opportunity hackers have to gain access to their lives. Everything – from children's tablets to smart TVs, even refrigerators – is becoming increasingly more connected to the Internet of Things. And very few of these things are engineered with cybersecurity in mind. They are essentially open avenues into the home or business, and, as they are connected to the same network, are a direct pathway to some of the most valuable, digitally stored information people have.
Operational technology attacks
Specific to businesses, the corruption and breach of operational technology (i.e. programmable manufacturing equipment) opens organizations up to risks they may not realize. Without the proper policies, procedures, and safeguards, the same hackers that are sending attacks on a business via phishing emails have the ability to tap into and take over the company's operations. Even with separate networks, businesses can suffer major losses if access to their equipment falls into the wrong hands.
Unsecured hardware and devices
Something as simple as connecting to an unsecured wi-fi connection while working remotely or leaving a laptop in a car overnight post huge security threats to companies and individuals. When they trust individuals with company hardware, they are also trusting that their people will follow protocol to protect the information stored within that device. However, many companies don't have a strong hardware security policy, or the importance of their practices isn't appropriately stressed to their team. Carelessness or, simply, lack of direction leaves companies exposed and at risk.
The common thread and biggest security risk of all
The common driver in all of these high-risk factors is one that isn't technical at all – it lies with the people companies entrust to carry out their work.
People control which emails are opened, manage passwords required to access specific accounts, and work with programmed equipment to keep it functioning properly. Statistics prove that a whopping 95% of all information and cybersecurity breaches are the result of human error. People write passwords down so they don't forget, leave accounts open at their desks while they step away, and use unsupported and against-policy methods of accessing information to make their jobs (and their days) easier.
Companies are telling their people over and over that information security isn't just an issue for IT to take care of, but that it requires participation and cooperation from everyone, every day. For the sake of convenience, workers put themselves and their companies at risk by brushing off those IT warnings and by dragging their feet to conform to new protocols. The outcome of this lack of attention and prioritization can result in tens of thousands of dollars lost for a company.
When companies commit to implementing ISO 27001, they commit to taking on accountability for each and every part of the information and cyber security protocols they will establish as part of their ISMS. One of the most crucial factors in the success of the system (and there for its certification) is the education, training, and involvement of the entire workforce. When they all choose to participate and work together for improved information and cyber security, the results will help their company stand out from the competition and provide new opportunities for growth.
To learn more about how to properly address your cyber security risks, or for information on ISO 27001 or NIST 800-171, email info@thecoresolution.com or call 866-354-0300.