ISO and Cybersecurity Webinars
Want to learn about topics like ISO 9001 and cybersecurity for small business? Join a future webinar or view one of our previous webinars to learn more about the best practices and industry standards small businesses can follow to achieve success. Our experts come together to give you the best and most relevant information regarding quality, cybersecurity and specific topics such as ISO 9001, CMMC, and everything in between.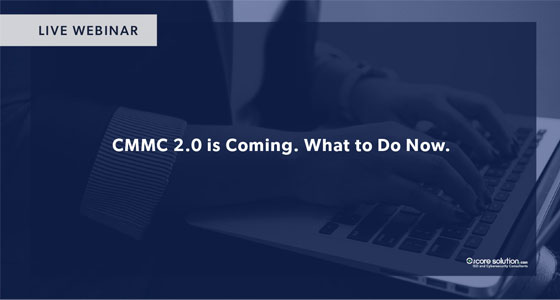 CMMC 2.0 is Coming
Tuesday, October 11th at 2pm EST
CMMC has gone through many changes over the past few years. Join us to hear about the all of the CMMC updates, what to expect in the future, and
what you can do now to prepare for CMMC 2.0. If you've attended a prior webinar on CMMC and learned the 5 levels, the standard has been updated to only 3 levels. Watch the webinar to learn more.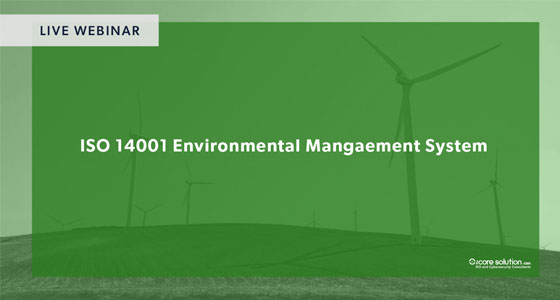 ISO 14001 Environmental Management System
Tuesday, November 15th at 2pm EST
Learn about the ISO 14001 Environmental Management System standard, how it applies to service companies and manufacturers. How you can implement an Integrated Management System with your ISO 9001 standard. This standard has increased in popularity in the United States over the past few years. Register to learn more.
Recorded Webcasts
In addition to our live streams, we have a library of previous webinars to help you build a solid foundation of cybersecurity knowledge. Watch them for free right here.
Top 5 Cybersecurity Threats to Small Business
Description: Small businesses face numerous threats to their businesses in the world today, And cybersecurity is climbing to the top. Cybercriminals are continuing to come up with ways to get small businesses' sensitive information for their profit. Watch this webinar to discover the top 5 biggest cybersecurity threats to small businesses that you should look out for and ways to protect against them.
Using ISO to Manage Business Risk
Description: Supply chain slowdowns. Labor shortages. Pandemic concerns. Today's businesses face a world of new and unknown risks. But with an ISO 9001 quality management system, any business can manage risks, take advantage of opportunities, and achieve sustainability. You just need the right knowledge and the right tools.
Building Customer Trust by Defending Your Data
Description: For over two decades, we've worked alongside American small businesses. In recent years, we've encountered one growing need time and again: the need for cybersecurity. In our digital world, cybersecurity is an essential part of quality. You're handling more than your own data. You're handling customer data, email lists, and even payment information. Customers know the threats. They want to work with companies they can trust.
Everything you need on one cloud-based platform
Core Business Solutions specializes in helping small businesses achieve and maintain compliance with ISO and cybersecurity standards.
The CORE Compliance Platform provides everything you need to make implementing and maintaining compliance easier.
Whether you conduct your own management system implementation or use our expert consultants to help, you can use CORE to create all the documentation necessary for compliance. The CORE Platform houses resource materials, robust training programs, and a project plan interface including dashboards to easily monitor your implementation.
Visit the CORE Compliance Platform page to learn more or to order the software.