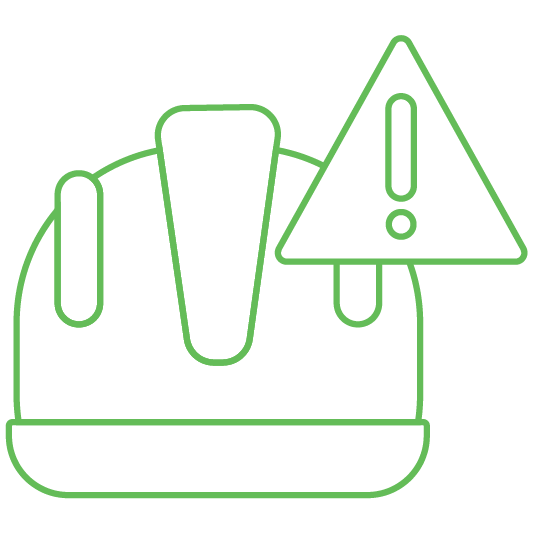 What is ISO 45001?
ISO 45001 is an occupational health and safety (OH&S) management system standard. This globally accepted standard helps you protect the health and welfare of your employees and interested parties. ISO 45001 uses the process approach to examine the risks and opportunities in your day-to-day operations. Implemented properly, this standard integrates health and safety practices seamlessly into your workflow.
ISO 45001 certification can help any business of any size in any industry. It enables companies to improve their performance and prevent injury by focusing on health and safety as a sustainable business practice. It also easily integrates with other standards, such as ISO 9001 and 14001. Download our free guide to learn more:
Why You Need ISO 45001 Certification
ISO 45001 protects your coworkers, visitors, and your employees—not to mention your brand reputation.
The International Labor Organization reports that more than 7,600 employees lose their lives each day because of work-related injuries and illnesses. With forward-looking occupational health and safety management, you can assess potential risks and mitigate them proactively. Instead of reacting to incidents, you can prevent them. This doesn't just protect your team; it also positively impacts production and revenue.
Achieving certification enhances brand perception and demonstrates a commitment to the welfare of others. Your customers and clients will notice.
Consulting Support for ISO 45001
Core makes certification as simple and effective as possible. Whether onsite or online, our consultants handle the complicated parts of ISO 45001 so that you can focus on your business. We'll help you understand how the standard applies to your specific organization. Implemented properly, ISO 45001 gives you a continual return on your investment.
Interested? Get a Free Quote.
The Benefits of ISO 45001 Certification
Improved OH&S performance
Improved Response to Regulatory Compliance Issues
Reduced Operational Downtime and Disruption
Reduced Cost of Insurance Premiums
Reduced Absenteeism and Employee Turnover
ISO 45001 can also incorporate other aspects of health and safety, such as wellness and well-being. This may be required by local or state-level regulations. However, ISO 45001 does not specifically address product safety, property damage, or environmental impact. This standard exists to minimize the risk of harm to people.
How Can You Become ISO 45001 Certified?
To achieve certification, project leaders must examine processes, incidents, absence patterns, turnover, ergonomics, and employee stress to find the necessary improvement areas. With these findings in mind, they will create a management system that drives consistent workplace health and safety improvement. This is a leadership-driven management system, just like ISO 9001 and other ISO standards.
ISO 45001 covers a variety of topics to help you develop your OH&S management system, such as:
Organizational context: What is your business context as it relates to health and safety?
Company-Wide Involvement: Who is accountable for what, and how?
Strategy: What is your overarching plan to meet certification requirements?
Support: What resources do you need, and who will provide them?
Execution: When and how will you put your processes into operation?
Assessment: When and how will you evaluate and measure your strategy's effectiveness?
Ongoing development: What wasn't effective and how will you improve it?
Our ISO 45001 experts can help you answer these questions and develop a step-by-step strategy to achieve certification.
What Steps Are Needed for ISO 45001 Certification?
Our approach breaks the certification process into four simple steps:
Plan: A dedicated consultant will walk you through the ISO 45001 requirements, helping you identify your risks and opportunities. Then you will create a strategy for improving your health and safety management.
Implement: Here, you act on your plans, documenting results and communicating new policies to employees and interested parties.
Review: Check your results and measure them against your objectives to find areas of improvement. We'll help you conduct the required internal audit to prepare for the final step.
Certify: We'll help you prepare for your official third-party registrar audit. After that, you receive your certification.
Related Standards
As an Annex SL standard, ISO 45001 easily integrates with other ISO standards, such as ISO 9001 and ISO 14001. We provide consulting support for companies seeking multiple certifications through an Integrated Management System.
ISO 9001
Quality Management Systems
R2
Electronics Recycling Management System
ISO 14001
Environmental Management Systems
How Can Core Business Solutions Help You Become Certified?
The experienced consulting team at Core Business Solutions will guide you each step of the way, from pre-certification gap assessments to readiness audits and registrar preparedness. We offer cloud-based document control software, employee/executive training, and hands-on consulting support for a comprehensive ISO 45001 consulting solution.
The team at Core Business Solutions has been providing expert advice on ISO certification to small businesses for over two decades. Learn more about ISO 45001 certification consulting by calling us at 866-354-0300 or contacting us online.