What is AS9100?
AS9100 is a global quality standard. It defines best practices for product safety and performance in aviation, space, and defense manufacturing. From major OEMs to the rest of the supply chain, all manufacturing companies in these industries can benefit from AS9100 certification.
The most recent version of AS9100, sometimes called AS9100D, was released in September 2016. 75% percent of AS9100D is made up of ISO 9001:2015 requirements; the rest contains 105 additional requirements specific to aerospace manufacturing, such as configuration management, risk management, project management, critical items, special requirements, and supplier scope of approval.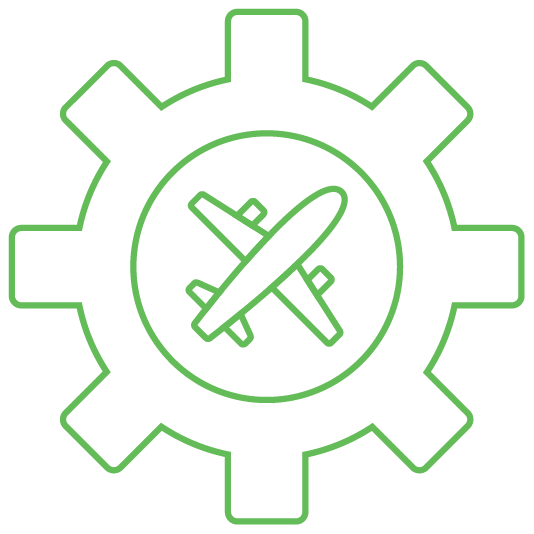 AS9100 Certification
Many aerospace and defense industry businesses work exclusively with AS9100-certified companies. This makes AS9100 certification essential to compete successfully in those markets.
All customers care about product quality and delivery performance. This is especially true in the aviation, space and defense industries. From start-to-finish, your entire Quality Management System (QMS) must take customer needs into account. This starts with understanding customer requirements and planning out processes, resources, and materials. From operations through delivery and support, open customer communication is essential. By measuring quality, delivery, and customer satisfaction, you can take action to achieve the highest levels of performance.
For successful and effective AS9100 certification, you need processes and resources to support your QMS. Management must ensure that sufficient resources—such as people, equipment, and facilities—are provided in an effective work environment. Many companies that require AS9100 are also required to be ITAR compliant and may not realize it. 
Who needs to comply with ITAR?
Any individual or company that deals with defense-related articles and services on the USML needs to comply with ITAR regulations. This includes manufacturers, exporters, brokers, and even universities and research institutions that work on defense-related projects. To learn more about ITAR compliance, visit our ITAR page.  We can assist in you being ITAR/EAR compliant as well as achieving your AS9100 certification.
Consulting Support for AS9100
Core makes certification as simple and effective as possible. Whether onsite or online, our consultants handle the complicated parts of AS9100 so that you can focus on your business. We'll help you understand how the standard applies to your specific organization. Implemented properly, AS9100 gives you a continual return on your investment.
Interested? Get a Free Quote.
What are the Benefits of AS9100 Certification?
AS9100 certification carries multiple benefits, including safer and more reliable end products, increased efficiency, well-defined processes, and improved customer satisfaction. Most importantly, AS9100 certification prepares your business for future growth and competition.
Whether you are seeking AS9100 certification for the first time or transitioning from AS9100C, we're here to help. Here are just some of the benefits of implementing AS9100 with the CORE solution:
Managed, Defined Processes
Safe, Reliable, Continually-Improving Products
Meeting and Exceeding Requirements to Ensure Satisfaction
Accurate, Clear Documentation
Greater Business Opportunities, Customer Satisfaction, and Growth
Supply-Chain and Stakeholder Focus
Recognition by Regulatory Authorities
Fewer Customer-Unique Documents
Safe, reliable, continually-improving products
Managed, defined processes
Meeting and exceeding requirements to ensure satisfaction
Greater business opportunities, customer satisfaction, and growth
Accurate, clear documentation
Supply-chain and stakeholder focus
Fewer customer-unique documents
Recognition by Regulatory Authorities
How Can I Become AS9100 Certified?
To become AS9100 certified, you must learn the requirements and apply them to your business. We offer consulting and training to help you do just that
Your AS9100 quality management system requirements include components like:
Quality goals:What are your objectives?
Quality assurance: How are you measuring and recording your results and customer satisfaction?
Process documentation:How do you achieve your quality goals? What methods and techniques do you use?
Data management: How do you control your data access and flow?
Growth focus: How will your business continually improve?
You also must complete the following steps for certification:
Internal Audit
As a member of the ISO family, AS9100 requires an internal audit to check your QMS compliance before your actual third-party audit. These planned and scheduled examinations must take place at each business location. With comprehensive internal auditor training for the AS9100 standard, you increase your chances of success. 
Management Reviews
AS9100 also requires regular management reviews. This is where management checks on progress, evaluates data (such as findings from the internal audit), and determines the direction of the QMS. These reviews are vital for continual improvement.
Third-Party Audit
Your Stage 1 and Stage 2 audits must be performed by an authorized third-party registrar. Expect to present testing logs, audit logs, and any other relevant material on the policies and procedures in your QMS. Your auditor will want to see evidence of your internal audit and your management reviews.
 How Long Does It Take to Get AS9100 Certified?
From planning to audit, the AS9100 certification process takes approximately four months for a small business. Timelines may vary based on your individual needs.
While the AS9100 standard has not changed, the auditing of AS9100 is changing.
Audit Requirements for AS9100 — AS9104/1A
A new version of AS9104/1A was released in 2022. Companies must complete their transition by January 2024. Even if you've never heard of this standard before, your company might feel the changes.
If you're certified toor seeking  AS9100 certification, these changes will impact your business. But exactly what changes are coming? And how should companies like yours prepare for the shift?
Read our article on How the New AS9104/1A Will Impact Your Business
You and your team will need the proper training and resources to help you successfully navigate the AS9100 requirements. You'll want comprehensive training on topics like preparing your Quality Management System (QMS), maintaining the standard's requirements, and appointing appropriate leadership roles.
Core Business Solutions offers critical training for executives and internal auditors. We can provide the fundamental training necessary to understand how to establish your QMS, how to conduct an internal audit, and more.
AS9100 Certification Requirements
AS9100 is primarily derived from ISO 9001 and therefore can be better comprehended if one fully understands the ISO 9001 Standard. The International Aerospace Quality Group has expanded upon the 9001 standard by including industry-specific requirements relevant to the aerospace sector. The distinct prerequisites of the aerospace standard are meant to enhance the 9001 requirements to meet the elevated expectations of exceptional performance.  Like ISO 9001, AS9100 is structured into ten clauses that provide a step-by-step approach to obtaining certification.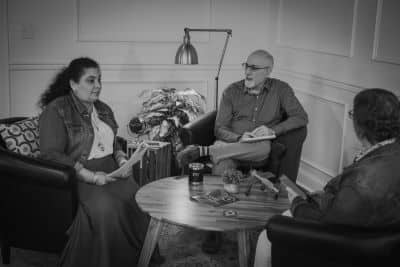 The initial three clauses of AS9100 aim to introduce and familiarize the organization with the standard. The actual fulfillment of requirements, however, commences from clause 4 forward.
For an in-depth look at the AS9100 of requirements look here: https://www.thecoresolution.com/as91002016-requirements
This is a Summary of the Requirements for AS9100:
Section 4 Context of the Organization
Section 4's objective is to identify, assess, and evaluate internal and external factors, including interested parties, while also defining the scope of the Quality Management System (QMS) and its associated processes.
An all-encompassing comprehension of the factors that impact a business is essential for superior and sustainable quality management. By defining boundaries and establishing how the QMS pertains to the work being performed, organizations can establish the context of their operations and align their processes with the company's vision.
Section 5 Leadership
The involvement of leaders is essential for the successful implementation of any ISO standard. Leaders hold the responsibility of ensuring the efficacy of the system, meeting customer demands, formulating and implementing a quality policy, and delegating roles and responsibilities to the team.
In addition to the standard 9001 guidance, AS9100 requires that companies track and record data relating to goals for conformity and on-time delivery. If the numbers show that goals are not being met, the leadership team is responsible for implementing changes.
Another added requirement of the AS9100 standard is the appointment of a specific management representative whose primary goal is to establish and maintain the QMS and have the freedom within the organization to access top management whenever necessary.
Section 6 Planning
Section 6 of AS9100 corresponds precisely with the requirements stated in ISO 9001 and does not introduce any additional criteria to the AS9100 standard. This section necessitates companies to develop strategies for mitigating risks and capitalizing on opportunities to accomplish their quality objectives. It also outlines how companies intend to achieve their quality objectives and make alterations to their management system.
Section 7 Support
Establishing a QMS of AS9100 standards demands an array of resources such as personnel, infrastructure, environment, equipment, and organization. Companies are required to collaborate with their entire team and educate them on their role in achieving certification. This section mandates companies to not only identify the resources required for QMS support but also ensure employee confidence, create awareness of QMS information, devise communication plans, and exercise stringent control of documents and records.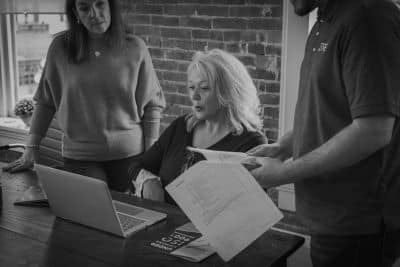 Section 8 Operational
This section is the most comprehensive in the standard, as it introduces several additional requirements to the operational aspect of QMS system development. It delineates the processes essential for producing products or services that fulfill the quality objectives established by the company. This section outlines the organization's specific responsibilities concerning process control, product or service requirements, design and development processes, validation of conforming inputs, environmental controls, verification of products and services, and identification and control of nonconforming outputs.
Section 9 Performance Evaluation
To analyze and evaluate the performance and effectiveness of the QMS, companies must establish practices and standards for measurement. They must determine the metrics to be measured, and the methods for measuring them (including who, how, and when), select procedures for monitoring customer satisfaction, conduct thorough internal audits, and schedule regular management reviews.
Section 10 Improvement
Section 10 of the AS9100 standard emphasizes the importance of continuous improvement to ensure the ongoing success of the QMS. This section sets out specific requirements that companies must adhere to in order to continually improve their processes, documentation, nonconformance management, and corrective action.
One crucial aspect of improvement involves enhancing the nonconformance management process. Companies must establish a robust system for identifying, investigating, and taking corrective action to prevent future nonconformance. It is essential to document all nonconformance and their resolutions, as this helps to identify trends and develop preventive measures.
Another significant area of improvement relates to documentation management. Companies must ensure that all documentation is accurate, up-to-date, and easily accessible. They must have clear procedures for controlling documents, including versioning, approval, and distribution.
Improvement in the QMS function also requires companies to monitor their processes regularly and identify areas for improvement. A system must be in place to track process performance and implement corrective actions where necessary.
Finally, regular management reviews are a necessary component of continual improvement. These reviews provide an opportunity for the company's leadership to assess the effectiveness of the QMS and identify opportunities for improvement. By continuously striving for improvement, companies can ensure that their QMS meets the needs of their organization and stakeholders and continues to deliver high-quality products and services.
What are the Challenges Associated with AS9100 Certification?
By choosing to pursue ISO certification, companies commit to a comprehensive process of identification, documentation, and targeted enhancement that spans various facets of their operations. However, complying with the requirements of certain sections of a standard can prove to be challenging, even for well-organized businesses.
In the case of AS9100, a QMS standard aimed at Aerospace, Space, and Defense manufacturers, we have observed that our clients tend to encounter recurring issues. To provide better insight into these problem areas, we have consulted our team of experts and identified some specific shortcomings. Our objective is to raise awareness among companies that intend to pursue AS9100 certification.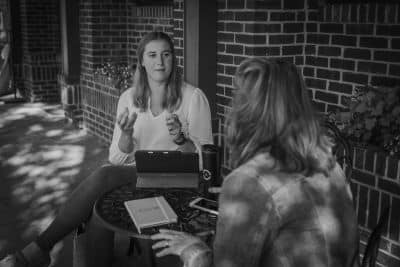 Three specific areas have consistently been identified as pain points for businesses seeking to achieve AS9100 certification:
Product Safety:
Businesses that operate at the component level face a unique challenge when it comes to ensuring the safety of their products. Unlike those who produce finished products, component-level companies must consider not only their own safety requirements but also the safety implications of their product in the context of the final assembly process. While they may be able to test their product's function in isolation, they cannot fully assess its safety in interaction with other components. This lack of complete knowledge can pose a significant challenge in guaranteeing overall product safety.
Configuration Management:
Businesses that deliver component pieces typically have a more straightforward assembly process, making it easier to ensure proper and documented configuration management. However, for companies that manufacture complex assemblies or end products, this process becomes much more challenging. As the number of production steps increases, so do the safeguards, and tracking each action can quickly become overwhelming. In addition, these complex processes require proper training and evaluation of competence, adding to the workload for organizations seeking certification.
Counterfeit Parts:
The verification of sourced materials to avoid counterfeit parts is an indispensable requirement of AS9100. Certificates of conformity are not always enough. Thorough testing of function prior to acceptance of parts ensures they won't compromise the performance and safety of the deliverable.
Organizations may need to send out samples of their raw materials such as metal, oils, and plastics for independent composition analyses, in addition to parts verification. The resulting test reports must be validated, and organizations may have to bear additional costs to collaborate with third-party testing facilities to ensure that their raw materials meet the necessary requirements.
Related Standards
We provide consulting support for various other standards, as well as support for companies seeking multiple certifications through an Integrated Management System.
ISO 9001
Quality Management Systems
ISO 14001
Environmental Management Systems
Contact Core Business Solutions to Get Your Business AS9100 Certified
At Core Business Solutions, we have the expertise and tools to help you achieve AS9100 certification. We've helped hundreds of American small businesses apply this standard to their business to achieve certification. When you work with Core, you benefit from our proven methods and guidance with a customized strategy for long-term growth that sets your business apart. 
For more information about ISO certification and the AS9100 standard, please call our consulting office at 866-354-0300 or contact us online.