What is AS9100?
AS9100 is a global quality standard. It defines best practices for product safety and performance in aviation, space, and defense manufacturing. From major OEMs to the rest of the supply-chain, all manufacturing companies in these industries can benefit from AS9100 certification.
The most recent version of AS9100, sometimes called AS9100D, was released in September, 2016. 75% percent of AS9100D is made up of ISO 9001:2015 requirements; the rest contains 105 additional requirements specific to aerospace manufacturing, such as configuration management, risk management, project management, critical items, special requirements, and supplier scope of approval. Download our free AS9100 guide here: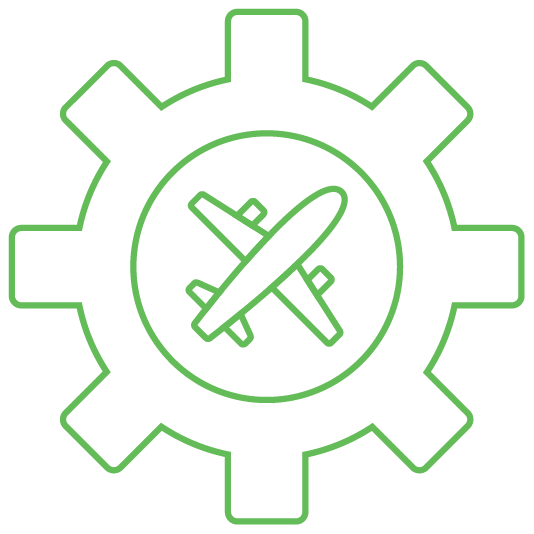 AS9100 Certification
Many aerospace and defense industry businesses work exclusively with AS9100-certified companies. This makes AS9100 certification essential to compete successfully in those markets.
All customers care about product quality and delivery performance. This is especially true in the aviation, space and defense industries. From start-to-finish, your entire Quality Management System (QMS) must take customer needs into account. This starts with understanding customer requirements and planning out processes, resources, and materials. From operations through delivery and support, open customer communication is essential. By measuring quality, delivery, and customer satisfaction, you can take action to achieve the highest levels of performance.
For successful and effective AS9100 certification, you need processes and resources to support your QMS. Management must ensure that sufficient resources—such as people, equipment, and facilities—are provided in an effective work environment.
Consulting Support for AS9100
Core makes certification as simple and effective as possible. Whether onsite or online, our consultants handle the complicated parts of AS9100 so that you can focus on your business. We'll help you understand how the standard applies to your specific organization. Implemented properly, AS9100 gives you a continual return on your investment.
Interested? Get a Free Quote.
What are the Benefits of AS9100 Certification?
AS9100 certification carries multiple benefits, including safer and more reliable end products, increased efficiency, well-defined processes, and improved customer satisfaction. Most importantly, AS9100 certification prepares your business for future growth and competition.
Whether you are seeking AS9100 certification for the first time or transitioning from AS9100C, we're here to help. Here are just some of the benefits of implementing AS9100 with the CORE solution:
Managed, Defined Processes
Safe, Reliable, Continually-Improving Products
Meeting and Exceeding Requirements to Ensure Satisfaction
Accurate, Clear Documentation
Greater Business Opportunities, Customer Satisfaction, and Growth
Supply-Chain and Stakeholder Focus
Recognition by Regulatory Authorities
Fewer Customer-Unique Documents
Safe, reliable, continually-improving products
Managed, defined processes
Meeting and exceeding requirements to ensure satisfaction
Greater business opportunities, customer satisfaction, and growth
Accurate, clear documentation
Supply-chain and stakeholder focus
Fewer customer-unique documents
Recognition by Regulatory Authorities
How Can I Become AS9100 Certified?
To become AS9100 certified, you must learn the requirements and apply them to your business. We offer consulting and training to help you do just that
Your AS9100 quality management system requirements include components like:
Quality goals:What are your objectives?
Quality assurance: How are you measuring and recording your results and customer satisfaction?
Process documentation:How do you achieve your quality goals? What methods and techniques do you use?
Data management: How do you control your data access and flow?
Growth focus: How will your business continually improve?
You also must complete the following steps for certification:
Internal Audit
As a member of the ISO family, AS9100 requires an internal audit to check your QMS compliance before your actual third-party audit. These planned and scheduled examinations must take place at each business location. With comprehensive internal auditor training for the AS9100 standard, you increase your chances of success. 
Management Reviews
AS9100 also requires regular management reviews. This is where management checks on progress, evaluates data (such as findings from the internal audit), and determines the direction of the QMS. These reviews are vital for continual improvement.
Third-Party Audit
Your Stage 1 and Stage 2 audits must be performed by an authorized third-party registrar. Expect to present testing logs, audit logs, and any other relevant material on the policies and procedures in your QMS. Your auditor will want to see evidence of your internal audit and your management reviews.
How Long Does It Take to Get AS9100 Certified?
From planning to audit, the AS9100 certification process takes approximately four months for a small business. Timelines may vary based on your individual needs. 
You and your team will need the proper training and resources to help you successfully navigate the AS9100 requirements. You'll want comprehensive training on topics like preparing your Quality Management System (QMS), maintaining the standard's requirements, and appointing appropriate leadership roles.
Core Business Solutions offers critical training for executives and internal auditors. We can provide the fundamental training necessary to understand how to establish your QMS, how to conduct an internal audit, and more.
Related Standards
We provide consulting support for various other standards, as well as support for companies seeking multiple certifications through an Integrated Management System.
ISO 9001
Quality Management Systems
ISO 14001
Environmental Management Systems
Contact Core Business Solutions to Get Your Business AS9100 Certified
At Core Business Solutions, we have the expertise and tools to help you achieve AS9100 certification. We've helped hundreds of American small businesses apply this standard to their business to achieve certification. When you work with Core, you benefit from our proven methods and guidance with a customized strategy for long-term growth that sets your business apart. 
For more information about ISO certification and the AS9100 standard, please call our consulting office at 866-354-0300 or contact us online.