About Us
ISO certification should make a difference to your customers
That is the single, most powerful idea that drives us.
We say that, not because an ISO certification allows you to "check a box". But because, if implemented properly, ISO 9001 (and similar standards) provides a practical approach to significantly improve your business performance… and your customers should notice.
For too long, ISO 9001 certification has had a bad rap with many small business owners:
"It's too expensive…..It's too hard…..It takes too long…It will slow us down…..We've kept our customers happy for years without it, and we can continue to."
Quick Summary
We believe ISO certification is about performance, not "checking a box".
Our CORE software and small business consulting programs allow us to work with hundreds of companies annually to become certified.
Our consultants are very experienced and our customers rave about them.
We're excited about the future and will continue to innovate and improve to help our customers serve their customers with excellence.
In our experience working with hundreds of small businesses in virtually every industry, we've seen ISO certification make a huge difference for our customers, and for their customers.  This happens when the management team of a small business approaches ISO certification with three goals in mind: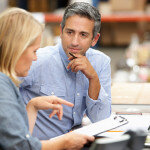 Make it matter
Make it work
Make it last
We call these our "CORE ISO Values" to indicate these priorities are central to everything we do in our company to help your company.  We're ISO 9001 certified ourselves because we believe these values work and we put them into practice in all of our ISO Consulting, ISO Training, ISO compliance software and other products.   Compliance to a standard such as ISO 9001 should bring results you can be proud of, not just a framed paper in your lobby.
We founded the company in 2000 and immediately began development of our CORE software platform (originally called DocBase Direct) with the idea of a web-based document control solution for ISO 9001 compliance.  CORE is the foundation of all that we do and it is the platform we use to support our small business consulting programs.  The majority of our consulting customers continue to use CORE as their own document control platform following certification.
Leveraging our web-based technology, our consulting services have been designed to support companies anywhere they are located.  Through our online and onsite consulting programs, we assist hundreds of businesses every year to achieve ISO 9001 and other certifications.  We've developed a unique approach to certification that includes on-line video training, templates, documents, ISO compliance software, and our consulting assistance… everything you need to implement an ISO quality management system or maintain compliance.
We've strategically located our consulting team in various geographical regions to be near our customers and our team is growing.  Our consultants are very experienced, most of our team members have had previous careers working in industry as quality managers or quality directors.  With these backgrounds, we can truly say "we've been there".  We're very proud of our consulting team and our customers rave about the level of service our consultants and support staff provide.
We believe that ISO 9001 has a strong future as it continues to evolve and new industries adopt ISO 9001 as their quality standard.  Related standards for aerospace, environmental, health and safety, information security, medical devices, automotive and telecommunications are following suit.  Our commitment will continue to be to assist small companies successfully achieve these certifications and, by doing so, demonstrate measurable improvements that their customers notice and appreciate.  We'll do everything we can do to help them be successful.
To help us stay ahead, our company President, Scott Dawson, is an active member of the US TAG to ISO/TC 176 (this is the committee that develops and revises the ISO 9001 standard).  This gives Scott a unique perspective on the upcoming changes to the standard which helps us be proactive in our development of new products and new programs for small business.
Through innovation and continual improvement we will continue to set the standard for standards compliance for small businesses.  We look forward to an exciting future of seeing our customers make a big difference for their customers to become among the best small business suppliers available.