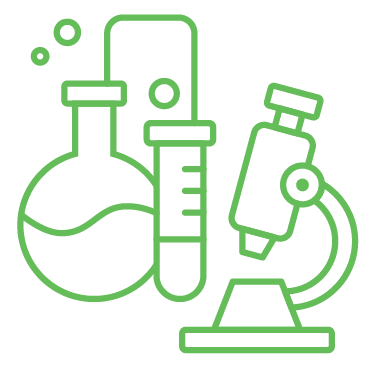 ISO 17025
ISO/IEC 17025 is for any organization that performs testing, sampling, or calibration. This includes all types of laboratories, industries, and sizes. The most recent version of the standard is ISO 17025:2017.
Who Wrote the ISO 17025 Standard?
ISO/IEC 17025 was developed by laboratory experts from all over the globe, with 18 liaison organizations, including the International Laboratory Accreditation Cooperation (ILAC), and many associations representing laboratories.
What are the Benefits of the ISO/IEC 17025 Standard?
Consistently generate valid results
Increased confidence from customers and stakeholders
Increased acceptance of the results without further testing
Improved and increased business and international trade
What are the Requirements for ISO 17025:2017 Compliance?
ISO 17025:2017 now follows the structure of ISO 9001:2015 and includes:
1. Scope – Discusses the objective of the standard, who can use it, and the purpose of  ISO 17025
2. Normative References – Highlights brief details on how certain guides and standards are referenced in ISO 17025
3. Terms and Definitions – Defines the terminology used in the standard
4. General Requirements – Covers the two main requirements of the standard which are:
Impartiality (laboratories won't let any commercial, financial, or other pressuring factors manipulate, compromise, or alter the quality of the testing results)
Confidentiality (laboratories are required to ensure that the results and other key information are kept private)
5. Structural Requirements – Outlines a laboratory's basic organizational structure and components, its processes, and its adherence to an efficient management system
6. Resource Requirements – Contains the 6 clauses that specify the necessary components a laboratory must have:
General
Personnel
Facilities and environmental conditions
Equipment
Metrological traceability
Externally provided products and service
7. Process Requirements – Provides 11 key processes on how to improve and implement the efficiency of the standard's requirements:
Review of requests, tenders, and contracts
Selection, verification, and validation of methods
Sampling
Handling of test or calibration items
Technical records
Evaluation of measurement uncertainty
Ensuring the validity of results
Reporting of results
Complaints
Nonconforming work
Control of data and information management
8. Management System Requirements – Emphasizes the two options available for organizations complying with the standard, the differences between the two, and the various activities involved in this section:
Option A – Applies to laboratories that have separate QMS from any other management system
Option B – Applies to laboratories that are part of larger organizations or if they have their own established management systems aligned with ISO 9001:2015
Management system documentation
Control of management system documents
Control of records
Actions to address risks and opportunities
Improvement
Corrective actions
Internal audits
Management reviews
The most recent version of the standard has a stronger focus on information technologies. In recognition of the fact that hard-copy manuals, records, and reports are slowly being phased out in favor of electronic versions, it incorporates the use of computer systems, electronic records, and the production of electronic results and reports. The CORE Compliance Platform can assist your organization in effectively maintaining compliance.
Related Standards
We provide consulting support for various other standards, as well as support for companies seeking multiple certifications through an Integrated Management System.
ISO 9001
Quality Management Systems
ISO 13845
Medical Device Manufacturers
For more information about ISO certification for the ISO 17025 standard, please call our consulting office at 866-354-0300 or contact us online.
Set Up Your Business for ISO 17025 Success Today
When you partner with Core Business Solutions, you receive cloud-based tools and consulting help to make ISO 17025 certification simple, fast, and effective. We're committed to helping small businesses achieve success and satisfy customers.
We offer consulting, software, training, and educational resources to get your entire team on board with ISO 17025. Our approach makes ISO 17025 understandable and effective, so you can meet industry criteria and optimize your processes.
For more information about the ISO 17025 standard, please call our consulting office at 866-354-0300 or contact us online.