Free ISO 9001 Certification Guides for Download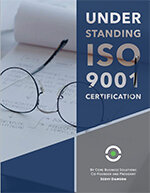 Guide #1–ISO 9001 Certification Guide
UNDERSTANDING ISO CERTIFICATION:  A 30,000-foot look at the why and how of ISO, this guide covers the basics: What is this? Why should you care? What are the requirements and how much will it cost? And how long will it take you to achieve ISO certification? We have all your answers here.
Guide #2–ISO 9001 Buyers Guide
ISO CERTIFICATION MADE EASY: You're ready to implement ISO standards, but you're not sure what kind of support you'll need. This guide will help you determine the level of service you will need to seek out in order to effectively and efficiently implement the requirements, pass the audit, and become ISO certified.
Guide #3–What is ISO 9001?
ISO 9001 IN A SMALL BUSINESS: A deeper dive into the ISO 9001:2015 standard, Scott Dawson provides an overview into each clause, offering plain-English explanations to help you understand the basics of implementing a Quality Management System.  This guide is a great place to start.
We support the following Standards and more...