2020 Update:  As you dig into the development of your company's quality management system and the requirements of the ISO standard, you may find yourself asking the question that the 2015 revision brought to organizations in pursuit of certification – should we create an ISO 9001 quality procedures manual?
It is first important to understand exactly what a Quality Manual is.
A quality manual is a document that states the company's intentions for operating and executing the processes within its quality management system. It can include policies for all areas of the business that affect your ability to make high-quality products and meet your customers' and ISO's requirements. These policies define how your department managers will implement procedures within the boundaries specified in the quality manual.
An important note: many other quality management system standards based on ISO 9001 are still requiring a quality manual. If your standard requires one, then you must maintain a quality manual.
The Quality Manual's purpose is to serve as the how-to document of your company's operational processes. Any policy within your business that affects your ability to deliver high-quality products, meet your customer's demands, and satisfy ISO requirements can be detailed in the manual. The document can then be used by your department managers as they implement procedures, and will define for them the boundaries and specifications they must satisfy.
A quality manual is an important tool for companies implementing an ISO Quality Management System to create because it will outline the intentions of your daily operations within your quality management system. It sets the expectations for your team's performance and for the caliber of your deliverables.
Uses of a Quality Manual
In addition to a tool for managers, the manual can be used for several other important purposes.
To communicate management's expectations to employees
To demonstrate the company's plan to conform to the requirements of ISO 9001:2015
To demonstrate the fulfillment of Clause 5.3 which states that organizational roles, responsibilities, and authorities must be assigned, communicated, and understood
To provide a starting point for auditors, either internal, customer-affiliated, or the ISO certification body.
Content:  What to Include
For users of ISO 9001:2015, the contents of your quality manual are completely up to you and are largely dependent on your processes. ISO requires that you show evidence of the intentions, actions, and outcomes of your QMS. When you are determining how to prepare your quality manual and what to include, be sure that your main focus is on ensuring that the policies you include reflect your actual practices.
Here are some common topics included in quality manuals.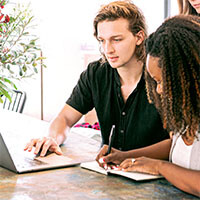 Quality policy
Explanation of the company's documentation structure
Organizational chart
Policy statements for each applicable ISO requirement
Reference to operating procedures
These are not required by ISO – your quality manual may not cover each of these topics, or it may include much more. The trick is to find a balance between all that could be in there and what truly needs to be included, and understanding of the crucial inclusions that will actually make a difference for the effectiveness of your manual.
Development: Quality Manual Creation Steps
After you have determined what should be included, you will need to know how to write a quality manual. As you work to write your quality manual, be sure you have a solid understanding of the ISO standard requirements. Be sure you have read, interpreted, and digested the complete standard before you begin work on developing policies and creating your manual.
At Core Business Solutions, we recommend six steps to help you break down the task, creating a manageable and approachable process.
List policies to be written i.e. a Quality Policy (note any ISO requirements that do not apply).
Draft policies based on applicable ISO requirements.
List operating procedures or refer to them as appropriate.

Including the operating procedure for each process included in your QMS.

Determine the format and structure of the manual and make the first draft.

The format of your quality manual is dependent on your specific needs and company. Remember to aim for simplicity and focus – it doesn't have to be long, it just needs to be applicable and effective.

Circulate the draft manual for input from all departments and address inadequacies identified.

Lean on the experts within each process to ensure that this "how to" document is as accurate as possible. This could include a review by process handlers in addition to management and leadership.

Attain a formal approval and release.

"Release" is the complete and thorough communication of the manual to your full team. Your company will need to be intentional with regard to training and communication so that the manual truly serves a purpose (as opposed to just being something you "have").
The quality manual is a controlled document that must be carefully handled, requiring stringent communication protocols throughout its creation, as well as and regular reviews to update and maintain the accuracy of the manual.
ISO 9001:2015 Quality Manual Example
The following excerpt is taken from an active quality manual. This example reflects the requirements of ISO to hold management reviews to evaluate the effectiveness of a QMS. Note how the requirement itself precedes the company-specific policies and records information.
XX Management Review
XX.1 Requirement: Top management conducts planned reviews of the QMS to ensure its suitability, adequacy, effectiveness, and alignment with the strategic direction considering:
the status of actions from previous management reviews;
changes in external and internal issues that are relevant to the QMS;
information on the performance and effectiveness of the quality management system, including trends in:
customer satisfaction and feedback from relevant interested parties;

the extent to which quality objectives have been met;
process performance and conformity of products and services;
nonconformities and corrective actions;
monitoring and measurement results;
audit results;
the performance of external providers;
the adequacy of resources;
the effectiveness of actions taken to address risks and opportunities;
opportunities for improvement.
The outputs of management review are to include decisions and actions related to: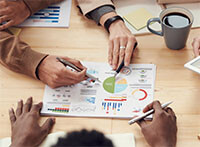 opportunities for improvement;
any need for changes to the quality management system;
resource needs.
Retain documented information as evidence of the results of management reviews.
NOTE how this section directly addresses the REQUIREMENTS of what is EXPECTED of each management review meeting. It OUTLINES what is to be executed during each session.
XX.2 Policy: Our management reviews are planned and occur on a [interval] basis. At a minimum, these reviews are attended by:
President
VP, Business Development
VP, Operations
Quality Manager
The Management Reviews are scheduled and a meeting agenda consisting of all required inputs is prepared.
Outputs from Management Reviews include the actions and decisions relating to any opportunities for improvement, needed changes to the QMS and resource needs.
This is short and to the point, stating the expectation of this specific section of the manual and the requirements related SPECIFICALLY to Management Review Meetings.
XX.3 Records: The meeting minutes and outputs are retained on the [record name].
Once more – simple and to the point, this section simply states where one can access the records of the management review meetings.  You may follow this same format as your work through the additional applicable requirements for your system and business.
As you work toward certification, it's crucial to be constantly vigilant to purpose, benefit, and balance as you create the required or supporting documentation. Careful considerations of how policies, procedures, and records are reflected can help organizations ensure they are completing tasks and living up to the standards they have set for themselves.